Natural time tracking
Time tracking with app helps you track jobs and simplifies your invoicing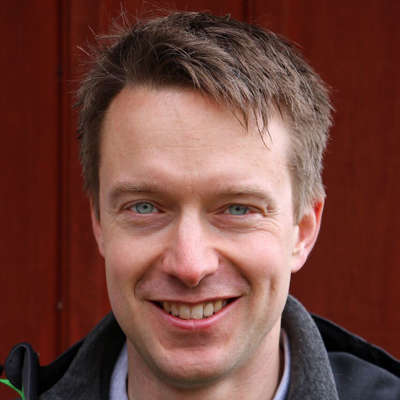 "We recommend Jobbile
It is easy to use both for employees in the office and the field staff"
Daniel Åkerström
D.Å Projektledning & Entreprenad AB
Time tracking made easy
Time tracking works best when done immediately after work is completed
The Jobbile app is so easy to use your time tracking gets done
All tracked hours are instantly compiled into dashboards, time reports and invoices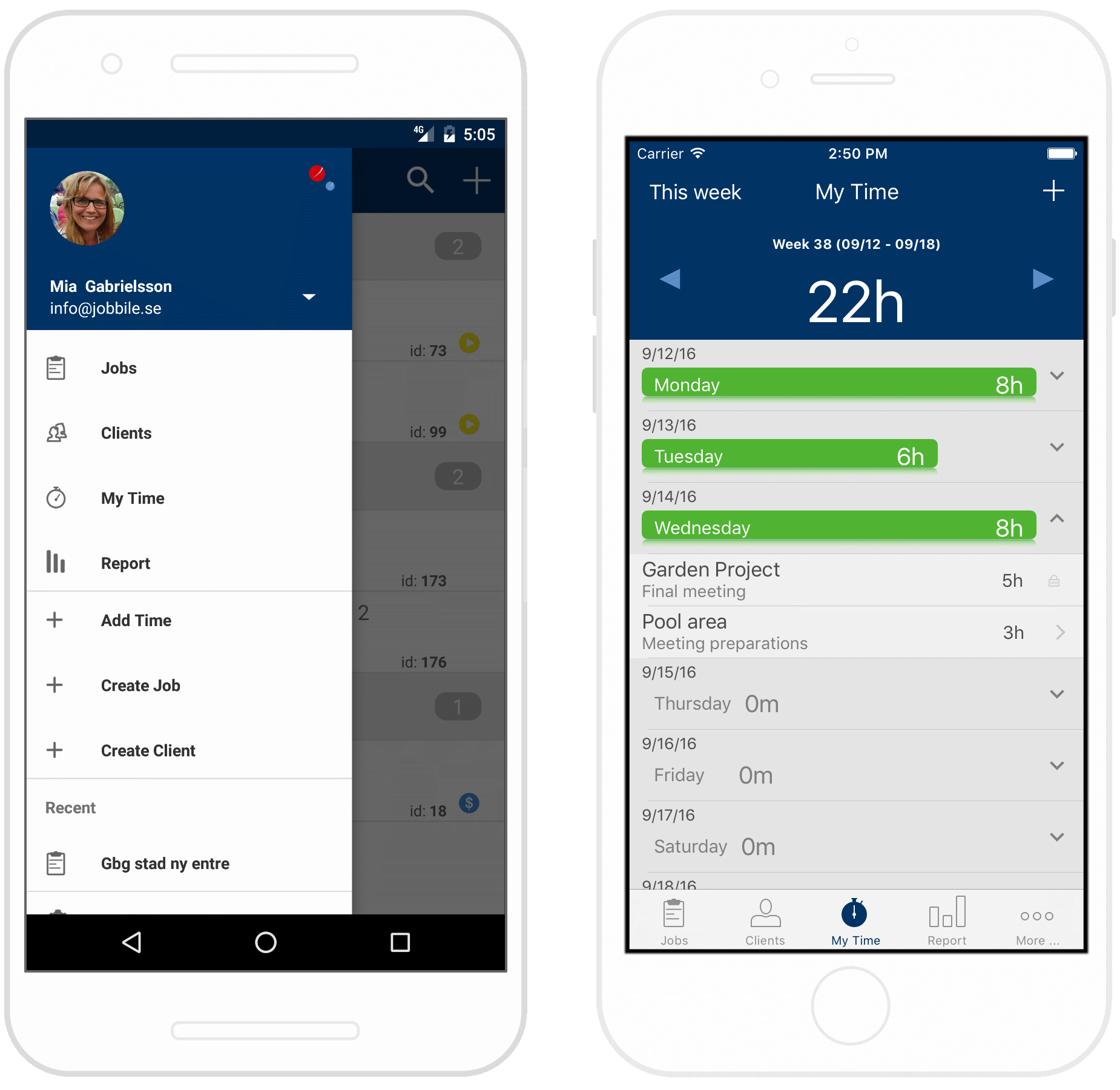 Structure saves money
One of the main reason to implement Jobbile is to structure your information. Jobbile saves time for the whole company no matter what role or type of business you are in
Have all your jobs, customer and hours in one system. You have always access to the information everywhere
With Jobbile you are in full control from planning to invoicing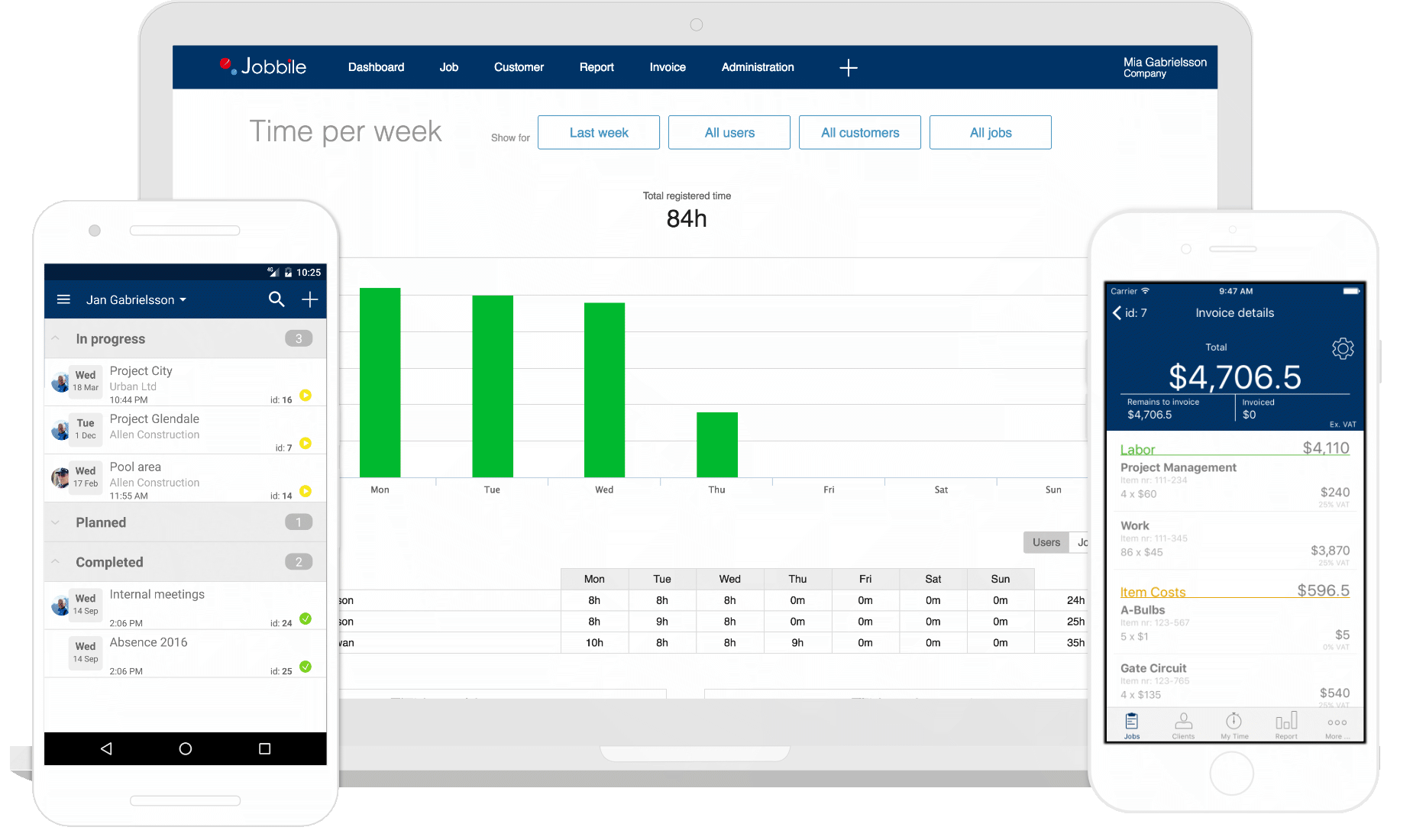 Features
Work order

Creating work order is just as easy in the field as in the office

Project

Better control. Follow up in real time

Planning

Calendar with great overview of all jobs and staff

Time tracking

Online and offline time reporting

Product

Keep track of the products you use for accurate billing

Customer data

Your customer information is organised and accessible everywhere

Reports

Analyse your activities for even more success

Upload photos

Capture photos of jobs that require more than words

Mobile adapted

No more reasons to be stuck behind your computer

Categories

Follow up every aspect of your business by separating it into categories

Import/Export

Download Jobbile data and import existing data via Excel

Email

Get status updates on jobs to your inbox

Access rights

Adapt Jobbile for your employees and business

Cloud service

No need to install software and to Backup. We keep your data safe and update Jobbile software frequently

Secure

All data transmission is encrypted using SSL encryption
Put a smile on your face
Cut paper hassles for everyone in your business

Do something fun with all the time you save
Words from our happy clients
"We have everything gathered in the system!
We choose Jobbile for the usability and the value for the money."

Danijel Glavic
D Elteknik AB

"Works like a charm!
Jobbile App gives me a great overview of all our work. Our internal communication between staff has improved, no more misunderstandings."

Mikael Andersson
Båstad Måleri AB

"Jobbile has helped us to not lose billable hours!
All hours are recorded in the right place at once, and Jobbile helps me keeping track that everyone has full time. In this way, we ensure that no hours are getting lost. As a bonus we have improved our management of supplier invoices. We no longer mislabel our purchases which sometimes meant that we did not get paid for all our expenses"

Jens Holmgren
El-Teleteknik AB

"Fantastic!
I no longer need to phone staff and chase information. I have everything in Jobbile when it is time for invoicing"

Joakim Yonetake
Koncept Måleri AB

"Jobbile saves me a ton of time!"

Kalle Öden
Kalles Allservice

"We experience great many gains using Jobbile!
For a relatively small amount of money, we get a lot in return. We are more organized and has speeded up time between completion of job and invoicing. Our payroll administrator gets the job done much faster"

Jan Lidén
Eltjänst i Årjäng AB

"Jobbile is incredibly easy to use and affordable!
We choose Jobbile cause it is the only software that meets our simple requirements.

Prior to Jobbile we had problems with our entire work order management. Paper documents to be written, delivered and retrieved. Now when customers call directly to our mobile phones, we quickly set up a work order in the system, it only takes 10-20 seconds. Dispatch the work order to a colleague takes 1 second and he has all the information right away. No jobs lost, no misunderstandings. Without exaggeration Jobbile saves our business at least 2 h per person a day"

Anders Hagberg
Stridbar El & Byggservice AB
Easy to get started
1.
Sign up
You get instant access to Jobbile software
2.
Go mobile
Go to Appstore or Google play to get Jobbile app